The Peraso 'X' Series Products provide multi-gigabit per second throughput and operate across the industrial -40°C to 85°C temperature range. They incorporate high-speed USB 3.0 system interface to integrate with common low-cost network processor ICs.

The Peraso 'X' Series Products operate in the 60 GHz V-band spectrum to enable rapid, license-free deployment in most major geographic markets. The 60 GHz band offers a large contiguous operating band to deliver multi gigabit per second throughput, and is particularly well suited to avoid the increasing interference problems suffered by traditional 2.4 GHz and 5 GHz WiFi bands.
The Peraso X710 Chipset
The Peraso X710 chipset includes the PRS1151 direct conversion 60 GHz RFIC and the PRS4601 baseband IC to implement complete RF to baseband functionality compliant with the IEEE 802.11ad (WiGig) standard.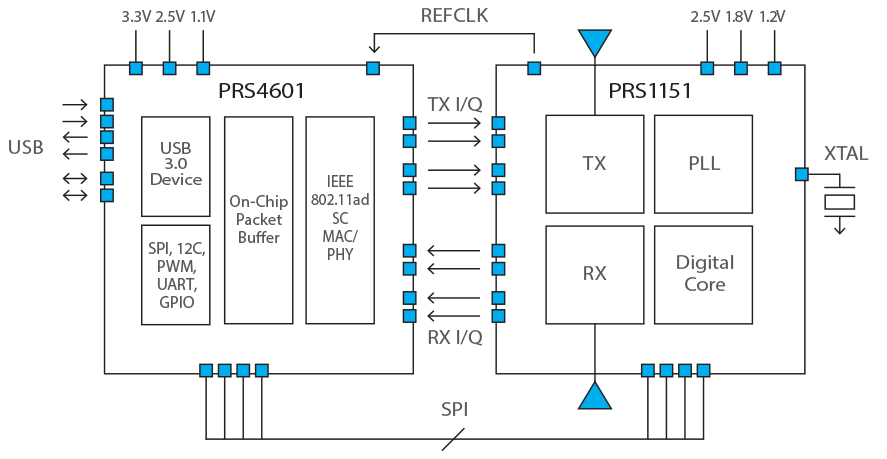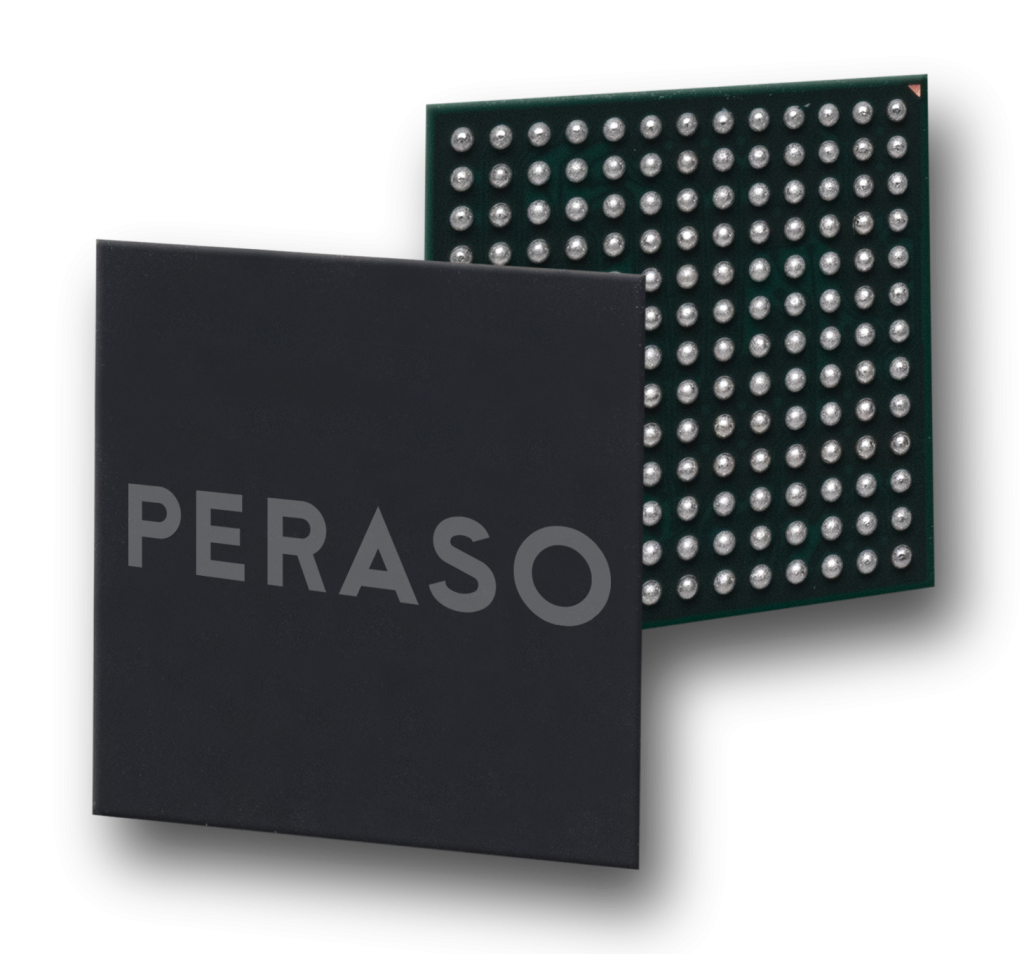 PRS4601 – 60 GHz BASEBAND IC
802.11ad compliant PHY

Maximum data rate up to 4.62 Gb/s throughput
Single carrier MCS0 to MCS12 (16-QAM)
Variable rate LDPC FEC
Full support for Beamforming

USB 2.0/3.0 (5 Gb/s) device controller with integrated PHY
802.11ad compliant MAC

Two integrated RISC CPUs
On-chip memory for all packet buffering, control and management functions
Contention-based and scheduled access with highly programmable scheduler
Configurable air propagation time
128-bit AES security (GCMP)
Highly configurable peripheral interfaces

8-client support
Antenna aiming feedback
Windows, Linux and Android support
7mm x 7mm BGA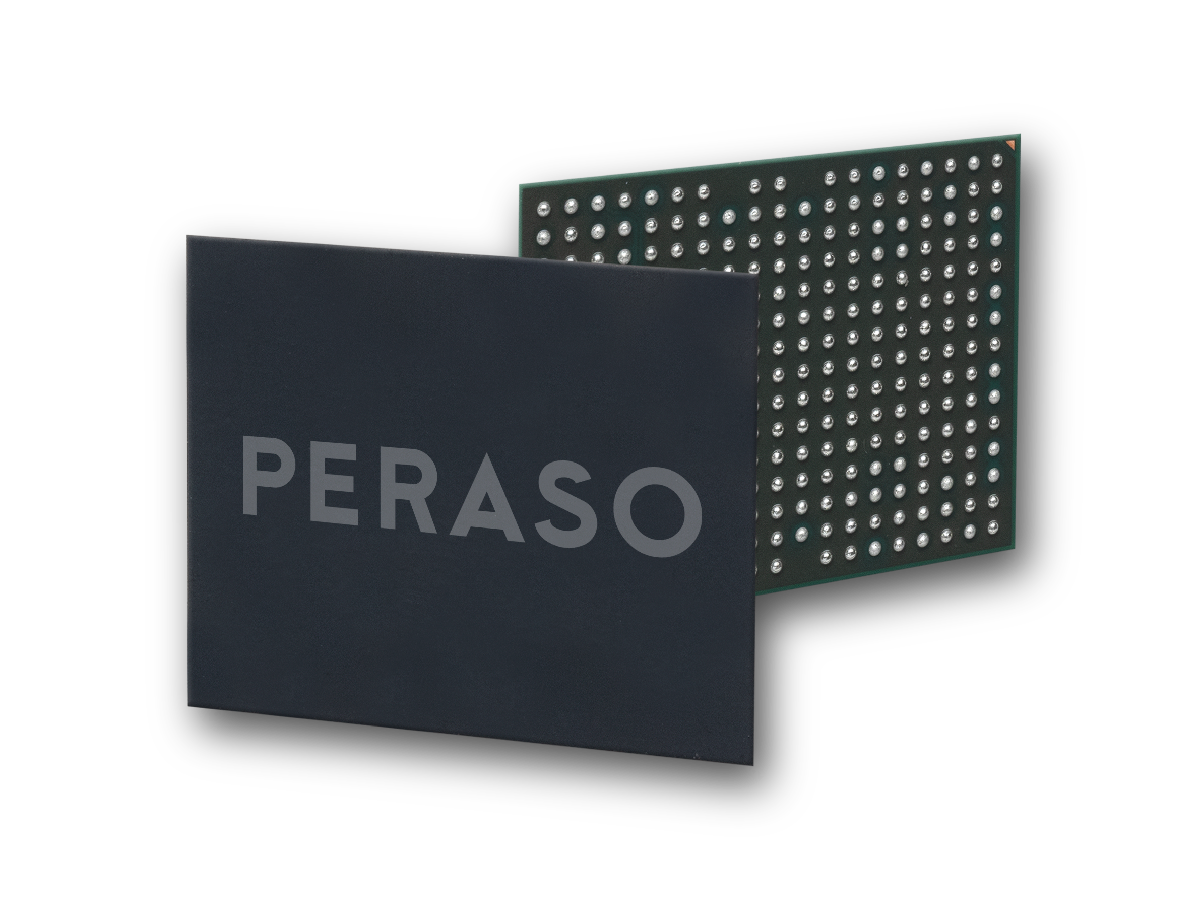 PRS1151 – 60 GHz PHASED ARRAY RADIO IC
8 Tx/Rx antennas
Tx output power: 15 dBm (QPSK), 13 dBm (16-QAM)
Rx noise figure: 6 dB
PLL tunes to all channels of 802.11ad
Supports single carrier BPSK, π/2-BPSK, QPSK, π/2-QPSK, and 16-QAM
Integrated Tx and Rx antenna interfaces
Baseband I/Q interface
3 / 4-wire SPI and 4 GPIOs for configuration and control
8mm x 10mm BGA
The Peraso X715 Chipset
The Peraso X715 long range WiGig® phased array chipset is an 802.11ad compliant chipset targeted at fixed wireless broadband applications.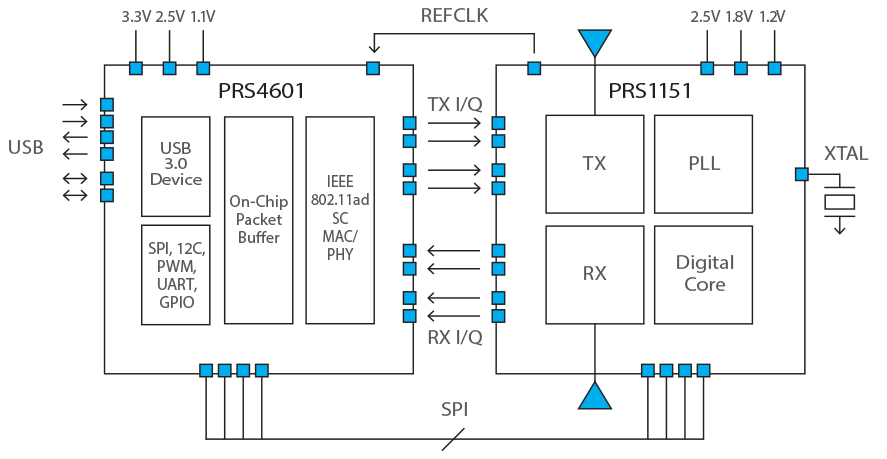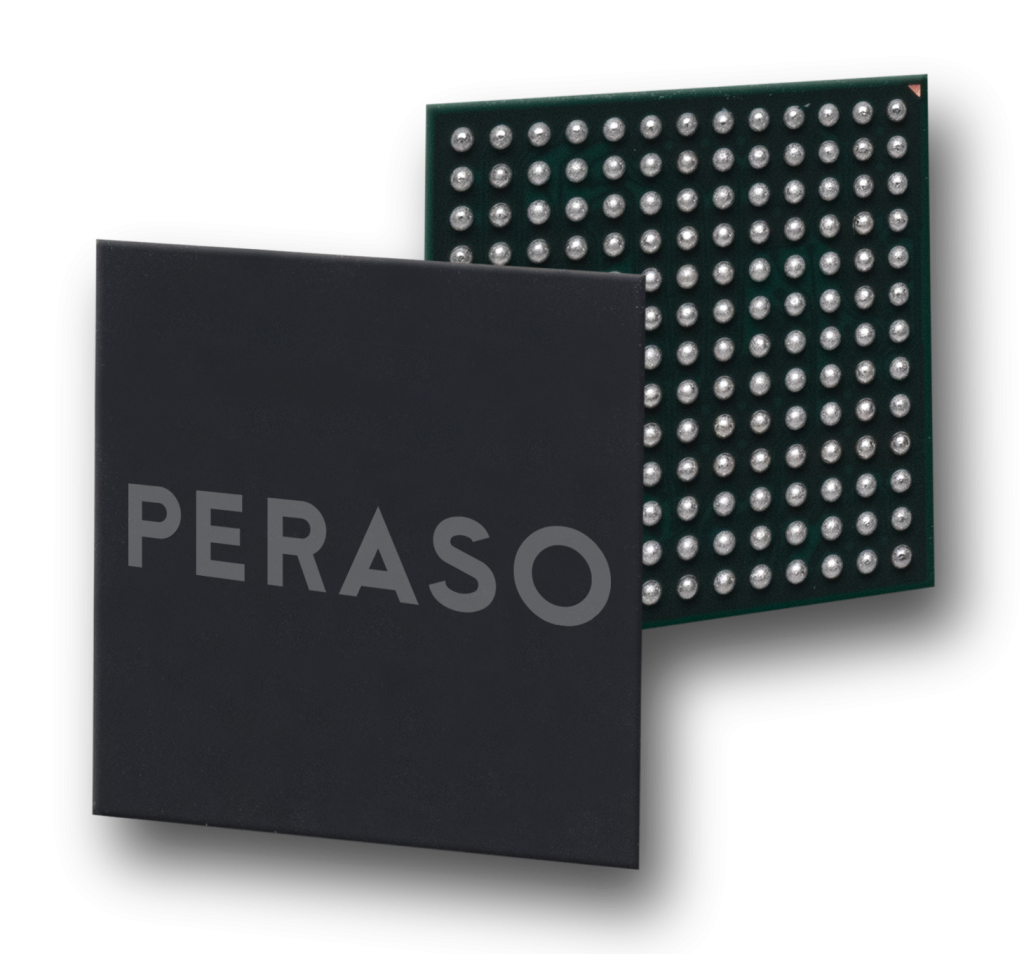 PRS4601 WiGig Baseband IC
IEEE 802.11ad compliant AP and STA with support for up to 64 clients
Fully integrated AFE, PHY and MAC
USB 3.0 interface
Highly flexible, dual CPU soft MAC integrates WiGig® MAC functions
PHY supports MCS0 to MCS12 (4.62 Gb/s)
Up to 3 Gb/s end-to-end throughput (MCS12)
Extensible API allows for fine control of performance and network operation
7mm × 7mm BGA package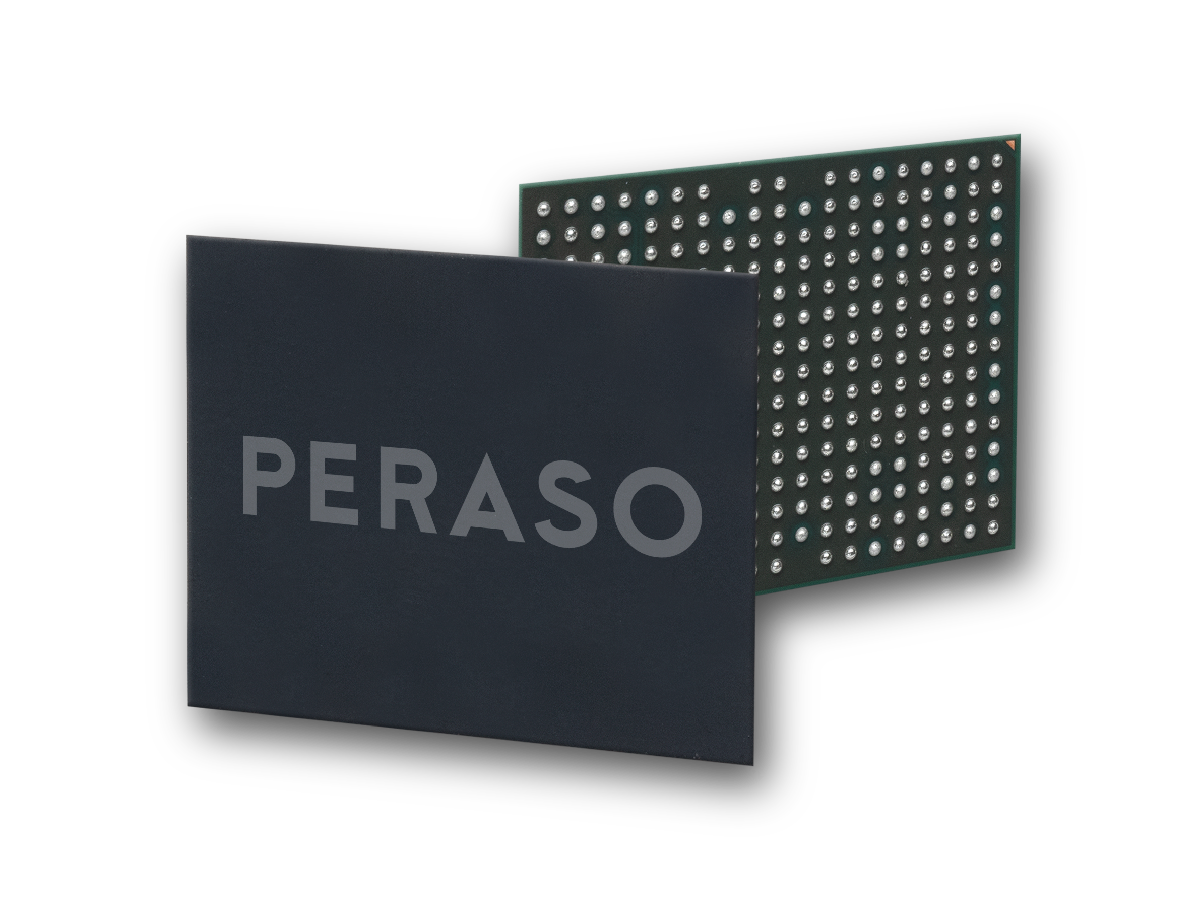 PRS1151 60 GHz phased array RFIC
• Support for 16 Tx/Rx antennas
• Tx output power (tiled operation): 20 dBm (QPSK), 13 dBm (16-QAM)
• Receiver noise figure: < 6 dB
• PLL tuning range: 57 to 66 GHz (6 channels at 1.08 GHz centers)
• Integrated 45 MHz crystal oscillator
• Power supplies: 1.2V, 1.8V, 2.5V
• Operating temperature: -40 °C to 85 °C • 8mm × 10mm BGA with 0.5mm pitch