For consumer electronics devices such as VR headsets, docks, adapters, smartphones and tablets, the 60 GHz band provides a wireless alternative to existing wired standards like USB3.0 or HDMI.The Peraso 'W' Series Products address this market with industry leading efficiency, outstanding performance and a compact form factor.
The Peraso W120 Chipset
The Peraso W120 chipset employs the PRS1141 and PRS4001 integrated circuits to implement a low cost, low power, high performance SuperSpeed USB 3.0 to WiGig device. With it, wireless displays, wireless docking, and wireless access to the cloud can now be much more effective and efficient using WiGig technology.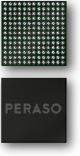 PRS4001 - WiGig BASEBAND IC
802.11ad compliant PHY

Maximum data rate up to 4.62 Gb/s throughput
Single carrier MCS0 to MCS12 (16-QAM)
Variable rate LDPC FEC
Support for WiGig beamforming

802.11ad compliant MAC

Two integrated RISC CPUs
On-chip memory for all packet buffering, control and management functions
128-bit AES security (GCMP)
Highly configurable peripheral interfaces

USB 2.0/3.0 (5 Gb/s) device controller with integrated PHY
Windows, Linux and Android support
7mm x 7mm BGA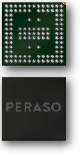 PRS1141 - WiGig RADIO IC
Support for 8 Tx / Rx antennas
Tx output power (4 elements): 12 dBm (QPSK), 10 dBm (16-QAM)
Rx noise figure: 6 dB
PLL tunes to all channels of 802.11ad
Supports single carrier BPSK, π/2-BPSK, QPSK, π/2-QPSK, and 16-QAM
Integrated Tx and Rx antenna interfaces
Baseband I/Q interface
3 / 4-wire SPI and 4 GPIOs for configuration and control
8mm x 10mm BGA