Optimized for consumer and enterprise VR applications, the Peraso 'V' Series Products harness the power of 60 GHz WiGig connectivity to untether VR headsets from PCs and deliver unmatched performance – including multi-gigabit speeds 10x faster than traditional Wi-Fi, no interference and zero latency – for a truly immersive virtual experience with no wires. The platform shatters the limits of existing wireless VR solutions with market-first capabilities that enhance the user experience and improve flexibility for headset manufacturers.
The Peraso V150 Chipset
Peraso's V150 WiGig chipset for wireless virtual reality incorporates the PRS4004 WiGig USB 3.0 baseband IC, dual PRS1145 60 GHz phased array RFIC, and optimized application-specific antennas.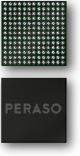 PRS4004 WiGig BASEBAND IC
Two integrated RISC CPUs and on-chip memory for all control and management functions
Firmware boot from serial flash
Configurable status and debug LEDs
7mm x 7mm BGA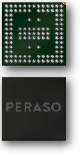 Dual PRS1145 WiGig Phased Array Radio IC
Support for 16 Tx/Rx antennas; configurable as 2 or more independent 2-4 element arrays in different directions/polarizations
Tx output power (4 elements): 10 dBm (QPSK), 8 dBm (16-QAM)
Rx noise figure: 6 dB
10mm x 10mm BGA Package