Peraso set to speak at Wi-Fi NOW Expo and Conference
Posted on March 9, 2017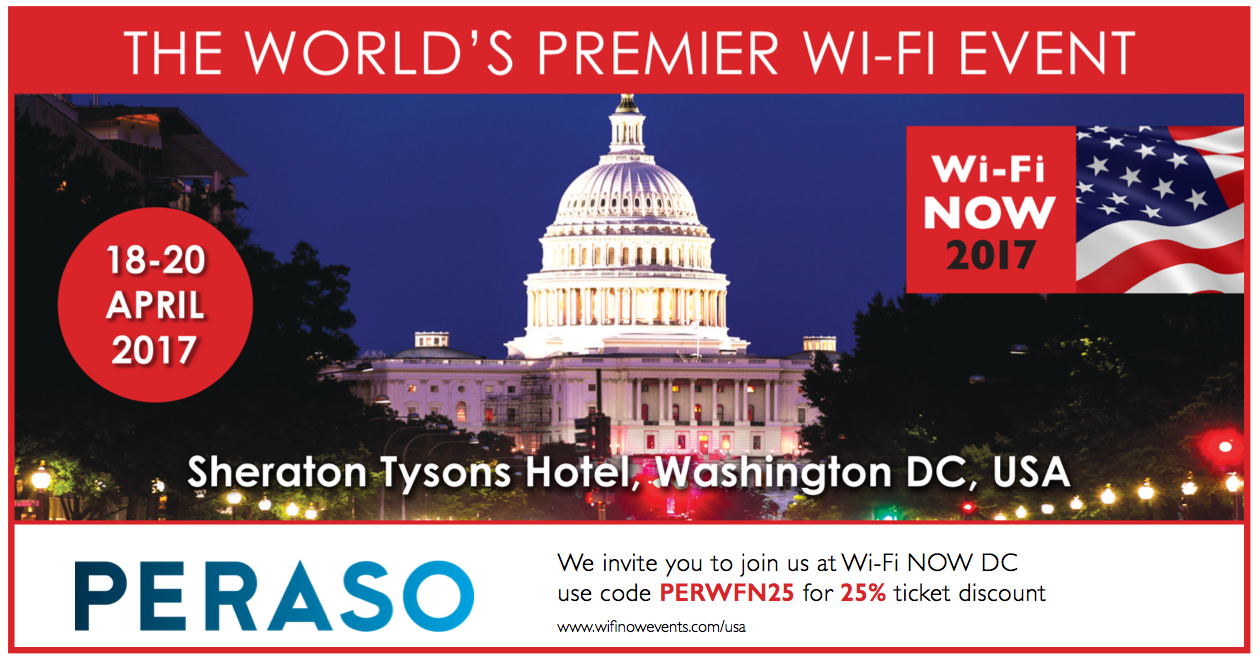 April 18, 2017 to April 20, 2017
Wi-Fi NOW is the world's only expo and conference 100% dedicated to Wi-Fi, bringing together the entire Wi-Fi industry for three high-energy & informative days of all things Wi-Fi in the US capital this April.  Their initiative: Wi-Fi everywhere for everyone.
As stated by their team: "We help drive the industry forward by delivering a detailed Wi-Fi technology and business update from enterprises, carriers, technology leaders, a host of promising Wi-Fi startups, and service providers of all kinds."
This themes for this year include:
Will new standards WiGig® and Wi-Fi HaLow™ strike it big?
Rise of the City Wi-Fi network
Enterprise Wi-Fi: Engagement & big data
Next generation Wi-Fi for the connected home
Performance & innovation in radio
Emerging markets: Connecting the next billion users to the Internet (including TVWS)
Carrier-grade Wi-Fi & Wi-Fi Calling
Mobile & Wi-Fi convergence (Wi-Fi First)
Public Wi-Fi security
Peraso's John Tryhub is slated to speak on the benefits WiGig, and how this technology will forever change how we connect, stream and share.
We invite you to join us at Wi-Fi NOW with a 25% discount. Use code PERWFN25
Location: Sheraton Tyson's Corner, Virginia
Book your ticket here